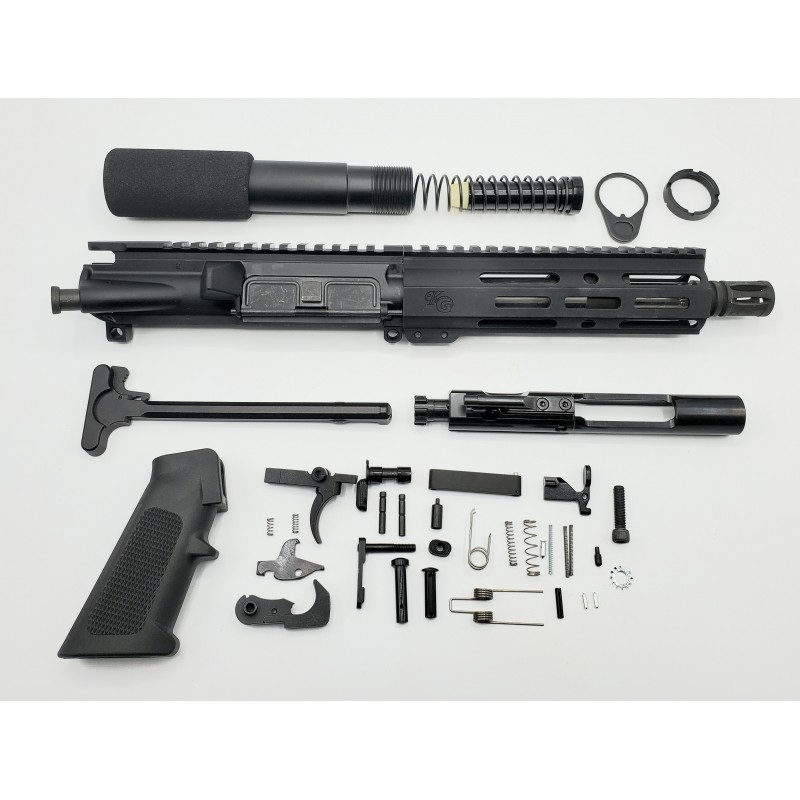 KG Stinger M-Lok 300AAC 7.5" Pistol Upper Bundle Stainless Steel
KG Stinger M-Lok 300AAC 7.5" Pistol Upper Bundle Stainless Steel
KG Stinger M-LOK 300AAC Blackout Upper 7.5" with LPK and Pistol Stock Set Bundle Stainless Steel

All the parts needed to build an AR15 Pistol less a stripped lower
If you are going to have the upper cerakoted, please allow takes 2-3 weeks for shipping.
Please note if Cerakote Option is chosen, only the upper and handguard will be cerakoted.

FEATURES:
7.5" 300 AAC Blackout 1x7 Stainless Steel

Flattop Upper with M4 Feed Ramps

Steel Micro Gas Block, and Pistol Length Gas Tube

9" 7075 T6 Aluminum Free Float M-Lok Hand Guard

A2 Flash Hider
COMES WITH:
AR15 Nitride BCG

Standard Charging Handle

Lower Parts Kit

Pistol Buffer Tube with Foam Cover

Buffer, Castle Nut, Recoil Spring and Back Plate
All Uppers are Head Spaced and Test Fired
ALL NFA RULES APPLY
MUST BE PUT ON A PISTOL AR LOWER or SBR

Please Note: Your order will be cancelled if you purchase a COMPLETE LOWER and a COMPLETE UPPER in the same order, even in Knock Down Condition. Please see our Shipping Policy page for a definition of "Knock Down Condition" and our Cancellation Policy.
You might also like
Buy now to save
KG M-LOK Covers Set of 3 Black
Buy now to save
M-LOK Foregrip Hand/Barricade Stop-BLACK
Buy now to save
KG M-LOK Covers Set of 3 Tan
Related products
6 other products in the same category: