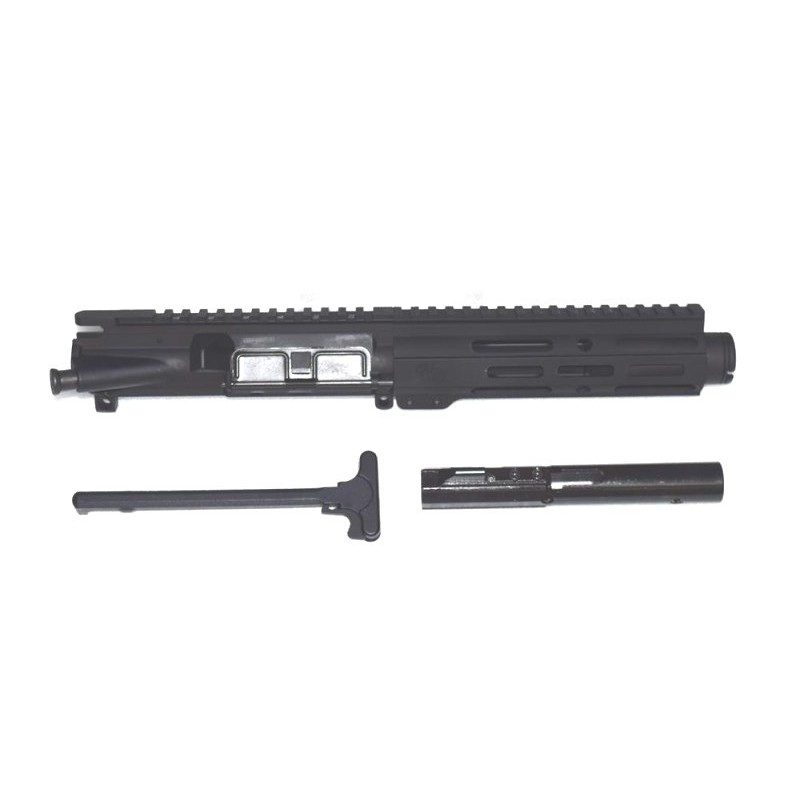 KG Minor Mayhem 9mm 5.5" Pistol Upper with Flash Cone
KG Minor Mayhem 9mm 5.5" Pistol Upper
KG 9mm Minor Mayhem 5.5 " Melonite/Nitride 1x10 with 7" Slim Line Free Float M-LOK Hand Guard


MUST BE USE WITH COLT MAGAZINE OR GLOCK MAGAZINE LOWERS OR WITH 9mm MAGAZINE ADAPTER
FEATURES:
5.5" 4150 Salt Bath Nitride Vanadium 1x10 9mm Barrel
Flat Top Upper with M4 Feed Ramps
7" 7075 T6 Aluminum Free Float M-LOK Hand Guard
Flash Cone  1/2x28 Thread
BCG is Hybrid 9mm Ramped Bolt Carrier
BCG can use bolt Colt Uzi Style Magazines and Glock Magazines

The upper will work with standard hammer

COMES WITH:
All Uppers are Head Spaced and Test Fired

Comes with KG's Lifetime Warranty: for details please see our Customer Service page or email us. 
For Reliable Function Upper Requires a 6 oz or Higher Buffer

IMPORTANT: A standard 1/2x28 flash hider will not have enough clearance for a 9mm round to pass

Before installing a muzzle device, ensure a 9mm round will drop freely through the muzzle device bore.

Please Note: Your order will be cancelled if you purchase a COMPLETE LOWER and a COMPLETE UPPER in the same order, even in Knock Down Condition. Please see our Shipping Policy page for a definition of "Knock Down Condition" and our Cancellation Policy.
You might also like
Buy now to save
KG M-LOK Covers Set of 3 Black
Buy now to save
M-LOK Foregrip Hand/Barricade Stop-BLACK
Buy now to save
KG M-LOK Covers Set of 3 Tan
Related products
15 other products in the same category: