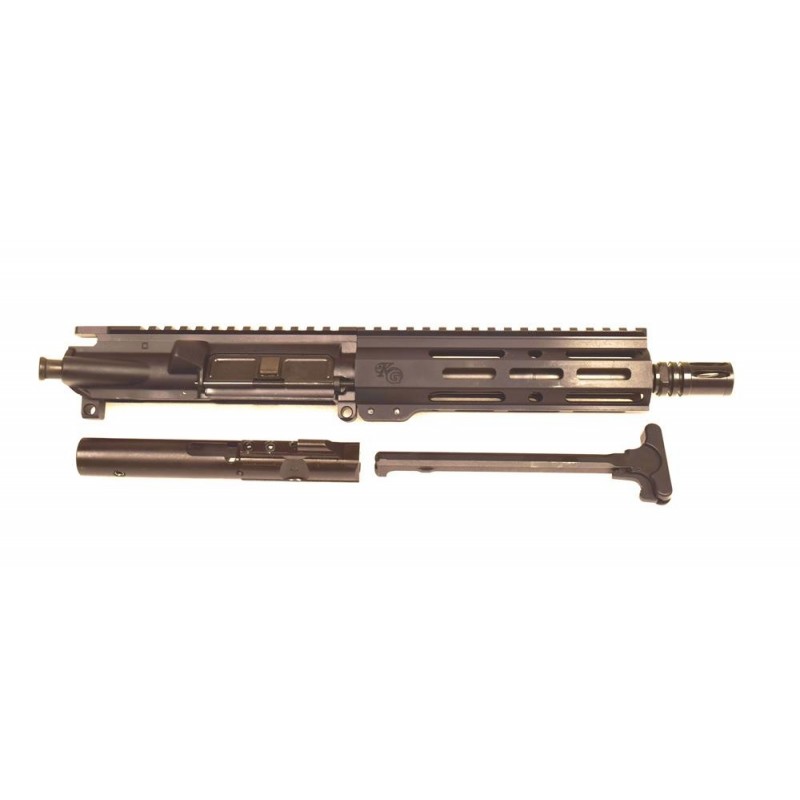 Stinger M-LOK 9mm 8.5" Pistol Upper
Stinger M-LOK 9mm 8.3" Pistol Upper
 9mm Stinger M-LOK 8.3 " Melonite/Nitride 1x10 with 7" Free Float  Hand Guard


MUST BE USE WITH COLT MAGAZINE OR GLOCK MAGAZINE LOWERS OR WITH 9mm MAGAZINE ADAPTER

FEATURES:
8.5" 4150 Salt Bath Nitride Vanadium 1x10 9mm Barrel
Flat Top Upper 
7" 7075 T6 Aluminum Free Float M-LOK Hand Guard
A2 Flash Hider 1/2x28"
BCG is Hybrid 9mm Ramped Bolt Carrier
BCG can use bolt Colt Uzi Style Magazines and Glock Magazines

The upper will work with standard hammer

COMES WITH:
All Uppers are Head Spaced and Test Fired

Comes with  Warranty: for details please see our Customer Service page or email us.

For Reliable Function Upper Requires a 6 oz or Higher Buffer

Please Note: Your order will be cancelled if you purchase a COMPLETE LOWER and a COMPLETE UPPER in the same order, even in Knock Down Condition. Please see our Shipping Policy page for a definition of "Knock Down Condition" and our Cancellation Policy.
Related products
3 other products in the same category:
Buy now to save
KG Minor Mayhem 9mm 5.5" Pistol Upper
Buy now to save
Stinger 9mm 8.5" Upper Suppressor Ready
Buy now to save
KG Mayhem 9mm 8.5" Pistol Upper